One of my pet peeves is wasting food. As a kid, I always finished my plate. I try to plan my trips to the store to account for nights where we won't be eating dinner at home. I hate throwing out food. What I hate even more, is the fact that Skinny Fat Kid can't cook and will spend money on takeout even though we have a full fridge. On most nights, he walks Izzy while I make dinner so its a bit difficult to get him involved and have him figure out where the stove is.
I was heading to Chicago for a long weekend with a fridge full of food and a hungry SFK. Before I hopped on the plane, I made up some of this barley burger stew. He gave it good reviews so I figured it was worthy of a post! And as an added bonus, I actually got to take pictures in natural sunlight!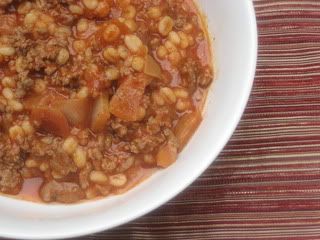 Adapted from allrecipes.com
Serves 4
Ingredients:
1 pound 93% lean ground beef
1 small onion, chopped
4 cups tomato juice
1 cup water
1/2 cup medium pearl barley
1 teaspoon chili powder
1/4 teaspoon black pepper
Directions:
In a large pot or Dutch oven, cook ground beef and onion until meat is no longer pink. Drain, if necessary.
Add in tomato juice, water, barley, chili powder and pepper. Bring to a boil. Reduce heat and simmer, covered, for 50-60 minutes or until barley is tender.